Okay, I am starting to feel like it just might be possible that someone out there has made a voodoo doll representing me. I don't know what I did to them, much less when or why, but I am sure if they had aired their grievances at the time I would have owned up to my part of the situation and apologize for whatever transgression or at least explained how I really meant whatever it was I said or did, which was most assuredly not ever meant to be hurtful or inconsiderate of whomsoever little feelers. They did not have to take the coward's way out and toy with me from afar.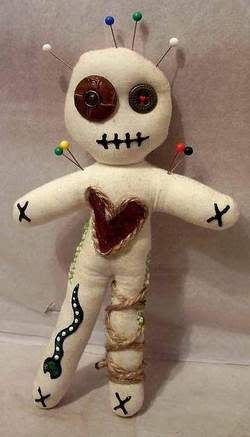 Ow! Quit it!
Last night I fractured a tooth eating a handful of Chex Mix. As you may imagine, I did not get very much sleep. At six in the morning, I gave up the chase and crawled out of bed. Due to not having a vehicle at my disposal, I had to find a local dentist who also took my type of insurance. I was in luck and found one just a little under a mile from my home. After sorting that bit out, I decided to check my email. I cruised through deleting the spammy bits and the other assorted non-imperative messages and was just about to close my in-box when I saw a message pop up from someone I am working on a group project with for a class this semester. This actually made me happy, since I like her and I was expecting a notice of progress on her section or something else of interest about the project. What I got instead was a notification that she had somehow accidentally deleted my section as she was playing around with it (it being MY section, not her section) and there was no back up made prior to her attempts to modify cough*my*cough section. Seriously?
I alternated between laughing and crying.